Blimps Are A Big Hit With Advertisers
Blimps are a big hit with all kinds of advertisers, all over the world and there are many reasons for the popularity of these giant attractions.
You can make your brand a big hit.
These giant advertising vehicles became famous because of the launch of the first ever airship that was filled with Helium and this was way back in the year 1925. The name of this massive balloon of the Goodyear was known as 'The Pilgrim'. These Goodyear advertising vehicles now traverse a distance of about 100,000 miles every year, covering the USA and serving as brand ambassadors for the Goodyear company.
But now you too can take advantage by making use of these giant advertising balloons to advertise your products and services. This is truly a great way for you to increase the popularity of your brand motto.
Why are Blimps so highly popular?
One of the reasons why these huge balloons are so very popular with both big as well as small advertisers is due to the fact that they are very cheap. In fact, if an advertiser does not have the money to buy the giant advertising balloon, he or she can always get one on rent. And this means that the advertiser has to pay far less money. This would also mean that a big balloon is an extremely affordable advertising vehicle.
Plus, another reason for the immense popularity of these giant balloons is the fact that they are great attention getters. No matter what a person may be doing, he or she will always stop and look at the giant balloon. And as the person will see the balloon, he or she will also see the advertising on it.
And this is just what all advertisers seek
All advertisers want people to look at their advertisements. This is a big accomplishment – getting people to notice what they are advertising, because people no longer have the time or the interest to look at advertising.
So by making use of giant balloons, advertisers with all budgets or even almost no budget to advertise, will be able to advertise and promote their businesses…and that is not the end of the good news!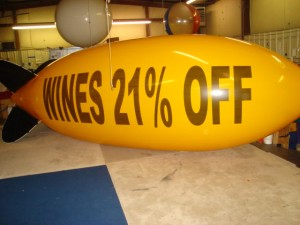 The best part is…
Advertisers can really ensure that they are going to get the attention of people by getting these big balloons made in unique shapes, colors and sizes. This is because people just love looking at things that are different. So when you have blimps that are totally unique, you can be sure that you are going to get the attention of people for many miles around.
Call 1-800-791-1445 for more information on outdoor advertising and blimps.
Email: sales@advertisingblimps.cc